Both supplements were manufactured in the UK with highest possible quality assurance as required by the national Ethical Trials committee – This level of quality assurance far exceeds standard supplement standards. Both manufactures or fully GMP and HACCP approved
Capsule Weight: 530mg
Capsule Size: HPMC Size 0 Veg
Citrus Sinensis fruit (400mg from 200mg of 2:1 extract, standardised to contain 70mg of Bioflavonoids).
Chamomile, Matricaria recutita L. flower) (1000mg from 22mg of 10:1 extract and 65mg of 12:1 extract).
Curcuma Longa rhizome in Curcumin Complex (1600mg of curcumin from 25mg of 64:1 extract, standardised to contain 23.8mg of curcuminoid).
Pomegranate (Punica granatum L. rinds and seeds) (1000mg from 25mg of 40:1 extract, standardised to contain 10mg of Ellagic Acid).
Polygonum cuspidatum root containing 100mg of resveratrol.
Vegan Capsule Shell (Hydroxypropyl Methylcellulose)
Inert bulking and anti-caking agents: Magnesium Stearate, Silicon Dioxide.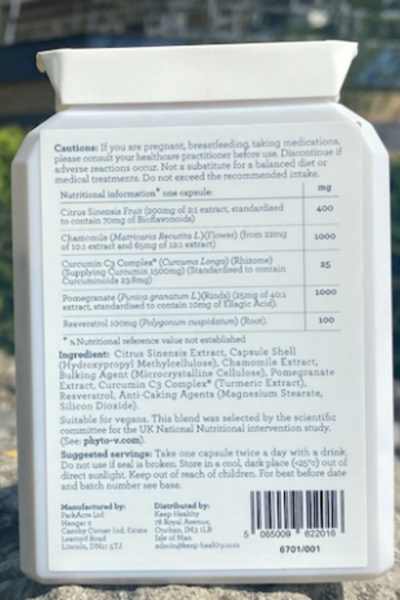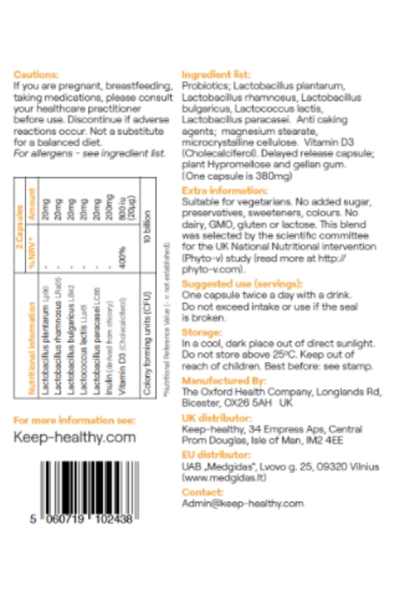 The daily dose (from two capsules)
Prebiotic – 200mg of inulin
Probiotics – 0 billion colony forming units (CFU's):
Lactobacillus plantarum,
Lactobacillus rhamnosus,
Lactobacillus bulgaricus,
Lactococcus lactis
Lactobacillus paracasei.
Vitamin D3: 800 iu
Delayed release vegan capsule –   hypromellose and gellan.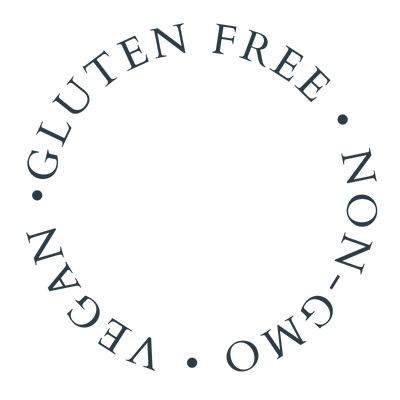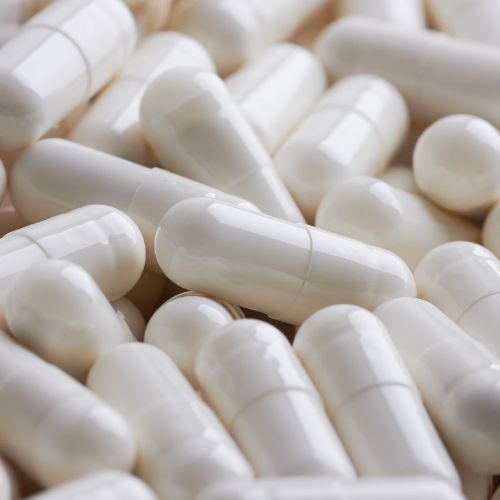 Vitamin D3 (800iu per serving)
Inulin made from whole chicory. 
Both supplements were manufactured in the UK with highest possible quality assurance as required by the national Ethical Trials committee – This level of quality assurance far exceeds standard supplement standards. Both manufactures are fully GMP and HACCP approved.
Evidence for the benefits of probiotic supplements in Sport
In recent years, there has been increasing interest in the potential role of probiotics in sport, particularly for enhancing performance, improving motivation to train, reducing fatigue, and promoting recovery.
Studies have shown that athletes have a distinct gut microbiota profile compared to sedentary individuals, with higher levels of bacteria associated with carbohydrate and protein metabolism. However, intense and prolonged exercise can also affect the gut microbiota, leading to an imbalance in microbial diversity and composition. This disruption can cause gastrointestinal symptoms such as bloating, diarrhea, and cramps, which can impair performance and recovery.
Probiotics, particularly lactobacillus, have been shown to help restore gut homeostasis by improving the balance and diversity of the gut microbiota, enhance nutrient absorption, reduce inflammation, and modulate immune function in athletes. In addition, probiotics may also produce metabolites such as short-chain fatty acids that can benefit athletic performance and recovery. Several studies have investigated the effects of probiotics on exercise performance and recovery, with mixed results:
Improved endurance:

 

Some studies have suggested that probiotics may enhance endurance performance by improving energy metabolism and reducing fatigue. For example, a study published in the

 

International Journal of Sports Nutrition and Exercise Metabolism

 

found that athletes who consumed a probiotic supplement including Lactobacillus acidophilus,  for four weeks had a significant increase in time to exhaustion compared to a placebo group.

Improved recovery:

 

Probiotics may also aid in recovery by reducing muscle damage, soreness, and oxidative stress. For example, a study published in the Journal of Science and Medicine in Sport

 

found that a probiotic supplement containing Lactobacillus rhamnosus reduced muscle soreness and improved muscle function in rugby players following a match. Similarly, a study published in the

 

Journal of the International Society of Sports Nutrition

 

found that a probiotic supplement containing Lactobacillus casei improved recovery time and immune function in endurance runners following a marathon.